Affordable Mobile & Web Based Business Software in Dubai UAE
100% Money Back Guarantee,

100% Satisfaction,

No Hidden Costs
Best Software Solution within dubai abu dhabi sharjah uae for all your Leads, Campaigns and Customer Relationship, Accounts, ERP and Payroll related requirementses, we provide cost effective Software in Dubai, Mobile App, Service Agreement.for all your Mobile Application, Backups, and Integrated Accounting Software related IT requirements.
Why Trust SICT CRM ?
10 Years of CRM ERP Payroll & Accounting software deployment in UAE.
Trusted and Reliable CRM Software Services, Less Fee.
Affordable, Fast and Quick Complete Manged solution, Cloud CRM Solutions & Maintenance Contracts.
99% customer satisfaction- we strive to deliver the best user experience.
We save your time and money by reducing unnecessary Costs and improving productivity.
Certified and Trusted IT Engineers with over 10 Years Experience.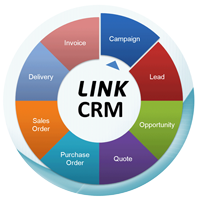 Our LinkCRM software needs no specialist knowledge and staff can be trained in minutes. It's so easy to use your staff will actually use it and love it! with LinkCRM, companies can maintain a customer database, track leads and opportunities in the pipeline, add quotations, add reqquest for quotations from suppliers (RFQs), manage products, email campaigns, provide helpdesk support, monitor to-do items, store documents, and send appointments. The system also interfaces with email campaigns. Users have the ability to view customer data by segment through this cloud-based system CRM System.
LinkCRM is recommended to all sizes of companies in several industries, including pharmaceuticals, software, retail, consulting, and manufacturing; it is designed to be accessed easily for representatives and agents on the road. LinkCRM is accessible from Internet-connected devices such as iPads, Windows tablets, smartphones, Macs, and PCs.
Recent Projects
By choosing Shazeb ICT to design your branding you can have a professional matching and suitable brand in no time! We provide premium graphic design support services includes Logo, Stationary, Letterhead, Business Cards, Media Marketing, Gifts and Branding packages at affordable pricing backed by a 100% Satisfaction Guarantee!